San Antonio Car Accident Attorneys
Car Accident Claims in Texas
Insurance companies make big promises about helping you after an accident but rarely follow through with those promises. If you have been seriously injured in a car accident in or around San Antonio, you are in jeopardy of being left with a lot of very expensive medical bills that you may not be able to pay.
Do not accept the settlement offered by the insurance company before consulting with an experienced car accident attorney in San Antonio. Maloney Law Group, P.L.L.C. can negotiate for fair and full compensation on your behalf so you have the money you need to pay all of your medical bills, cover your lost wages, and make up for any other expenses related to your accident.
Texas Car Accident Laws
Texas Car Accident Statute of Limitations
The statute to limitations to file a car accident claim in Texas is two years. This means that you have two years from the date of your accident to file a claim or you may lose the right to pursue compensation.
Modified Comparative Fault
Additionally, you are still eligible to pursue compensation if you at partially at fault for an accident, as long as you are less then 51% at fault. This law is referred to as "modified comparative fault" rule. In this scenario whatever compensation you were rewarded would be reduced by the percentage of fault you are determined to be responsible for.
Common Car Accident Injuries
Though our office is based in San Antonio, our law firm accepts car accident cases from all over Texas.
We handle cases involving all types of injuries, including:
Broken bones
Lacerations
Whiplash
Paralysis
We can help whether you were hit by another driver or your accident only involved your vehicle. We work with experts to determine exactly what caused your accident and pursue compensation from the responsible parties. Our firm has extensive experience in accidents caused by automotive defects as well as those caused by negligent driving.
Follow These Steps after an Accident
At Maloney Law Group, P.L.L.C., we can dedicate our time and resources to your individual case. We pride ourselves on relentlessly pursuing just compensation for clients throughout Texas. Our San Antonio car accident attorneys have the knowledge, experience, and resources to battle with insurance companies for the compensation you deserve. We are well-versed in the tactics regularly used to avoid covering the full extent of your injuries, and we know how to counter them effectively.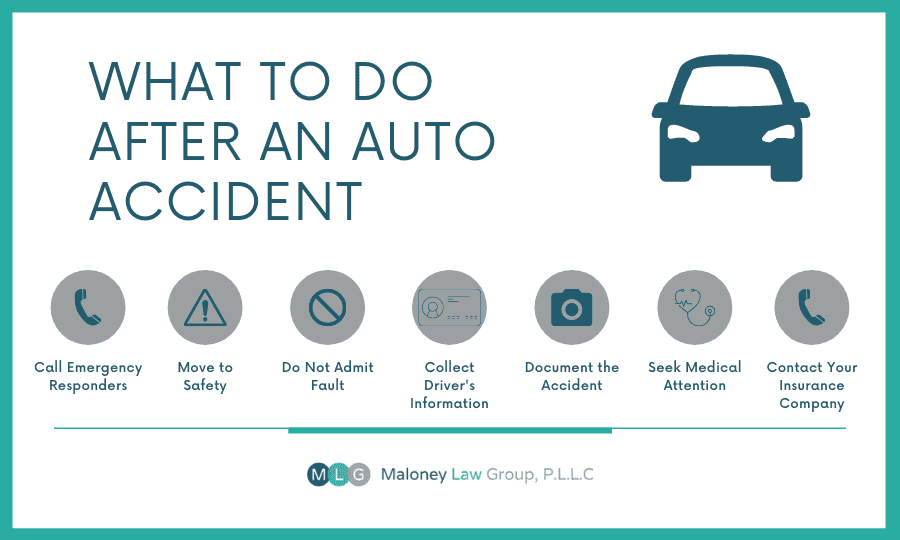 After a car accident, you should:
Call the police: You will need a police report to file with your insurance claim, especially if there is severe damage to your vehicle or if you have been seriously injured.
Seek medical attention: Your health is the most important concern after an accident. If you are well enough to walk away from the accident without needing an ambulance, go to an emergency room or a doctor as soon as possible. Not only does this ensure that you get the treatment you need after an accident, but it also starts a record of your injuries. We will need this to show the insurance company how your injuries may affect you in the future.
Exchange information with the other driver: As long as you are not severely injured, get the other driver's name, contact information, and insurance policy information. If you are severely injured, ask another person, such as the police officer, to get this for you.
Contact a lawyer: While you will need to file a claim with an insurance company, either the at-fault driver's or your own, you may be better off contacting us first. Many insurance companies will record your interview and use anything you say against you as you make your claim. We can help you file your claim and negotiate for fair and full compensation on your behalf.
The most important thing our lawyers do is protect your interests. All of these actions can help us make sure that protection is most effective.
We Bring in the Experts
We work closely with your doctors and other medical professionals to determine how your injuries may affect you in the immediate and far futures so we can make sure you are able to continue treatment as long as necessary to reach maximum medical recovery, as well as support yourself if you cannot return to work.
We also bring in accident recreation specialists if need be. These experts can recreate the details of your accident and assess cause and liability. Our San Antonio car accident attorneys understand how difficult this situation can be for you and your family. Our lawyers offer high-quality, compassionate service with aggressive representation. We will take your case to court if that is what is necessary to achieve your goals.
Ready to get started on your case? Contact a San Antonio car accident attorney from Maloney Law Group, P.L.L.C. at (210) 361-2997 today.
Birth Injury $7,000,000

Birth injury involving hypoxic ischemic encephalopathy (2020) Contingency Fee: $2,800,000 Reimbursable Expenses: $75,578 Net to Client: $4,124,421

Birth Injury $5,750,000

Involving hypoxic-ischemic encephalopathy (2014) Contingency Fee: $1,786,738.72 Reimbursable Expenses: $170,000.00 Net to Client: $3,396,261.28

Head-on Collision $5,000,000

With an 18-wheeler causing serious injury and death (2008) Contingency Fee: $1,799,990.00 Reimbursable Expenses: $150,000.00 Net to Client: $2,581,834,89

Carbon Monoxide Leak $4,290,000

Exposed the crew to harmful gasses (2006) Contingency Fee: $1,716,000.00 Case Expenses: $100,000 Net to Client: $2,474,000.00

Construction Accident Death $3,600,000

Due to dangerous work conditions (2015) Contingency Fee: $1,440,000.00 Case Expenses: $125,000.00 Net to Client: $2,035,000.00

Trucking Accident $3,000,000

Trucking accident resulting in death (2015) Contingency Fees: $1,000,000.00 Case Expenses: $93,455.68 Net to Client $1,906,544.32

Failure To Diagnose $1,820,000

Failure to diagnose ruptured brain aneurysm in the Emergency Department resulting in serious injury (2020) Contingency fee: $712,090.00 Reimbursable expenses: $157.285.61 Net to client: $950,624.39

Back Surgery Resulting in Paralysis $1,600,000

Back surgery resulting in paralysis (2014) Contingency Fee: $640,000.00 Case Expenses: $170,000.00 Net to Client: $790,000.00

Ceiling Collapse $1,450,000

Ceiling collapse at a construction site resulting in injuries (2012) Contingency Fee: $438,476.26 Case Expenses: $26,952.51 Net to Client: $984,571.23

Failure To Diagnose $1,370,000

Failure to diagnose and treat a necrotizing infection resulting in death (2019) Contingency Fee: $548,000.00 Reimbursable expenses: $165,301.67 Net to client: $656,698.33
What Makes Maloney Law Group Unique?
Family History

We have been a part of the San Antonio Community for decades.

Boutique Law Firm

You will receive personalized and dedicated attention.

Experienced & Prepared

We are equipped to handle the most complex cases.

Reputation for Success

We have earned a reputation for relentless advocacy.
Do Not Let an Injury Set You Back
Contact us online or give us a call to learn more about our firm or to schedule a free consultation with our team.
(210) 361-2997