Wrongful Death Attorneys in San Antonio
Wrongful Death Claims
Losing someone you love is always hard – but if that loss was caused by someone else's negligence, it can hurt even more. At Maloney Law Group, P.L.L.C., we understand that no amount of compensation can bring your loved one back. That said, compensation for your loss may ease your burden, hold the negligent party accountable, and help you achieve closure.
Our law firm focuses exclusively on representing claimants in personal injury cases, including the families of fatal accident victims. We are a boutique firm dedicated to the pursuit of justice and committed to exceptional service. Insurance adjusters and their lawyers take note when our firm name is on your claim. They know our reputation for excellence and will treat your case with the respect it deserves.
Compassionate & Knowledgeable Legal Advocates
What is Wrongful Death?
In Texas, wrongful death may be considered a death as the result of another party's "wrongful act, neglect, carelessness, unskillfulness or default."
Who Can File a Wrongful Death Claim in Texas?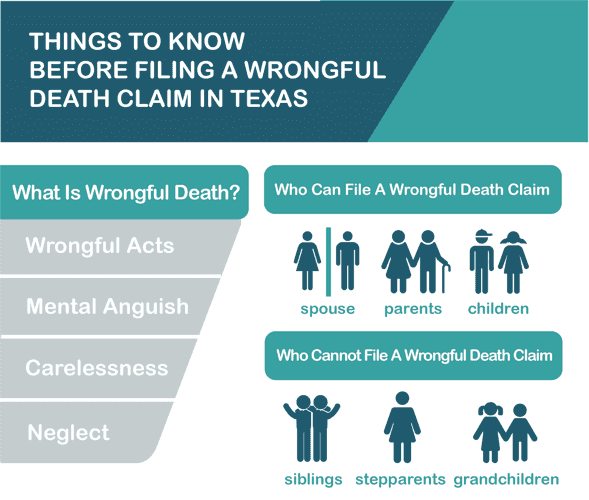 A wrongful death claim can be filed by the deceased's:
It is important to note the difference between a wrongful death claim, the loss suffered on behalf of the individual (i.e., surviving children, spouse, parents), versus a survival claim, the loss suffered by the decedent (i.e., the pain, suffering, mental anguish endured by the deceased as the result of the injury/death).
Survival Claims
A survival claim may be filed on the decedent's behalf by the surviving heirs to the decedent, if no administration of the estate is required, or if such administration of the estate is required, then the executor/administrator of their estate may file the claim.
Who Cannot File a Wrongful Death Claim?
A wrongful death claim cannot be filed by:
Siblings
Grandchildren
Stepparents
Foster parents
Biological children that have been adopted legally by another party
What is the Statute of Limitations for Wrongful Death in Texas?
Typically the statute of limitations is two years, but may be longer or shorter depending on the nature of the claims (e.g., governmental entities, contract disputes, products liability claims, and facts that may indicate tolling or extension of the statute). Because specifics details of your situation may increase or decrease this time frame, you should file the claim or speak with an attorney about it as soon as possible.
What Type of rewards are associated with wrongful death compensation?
Wrongful death beneficiaries may receive two different types of awards.
Actual Damages: Actual damages are compensation for financial losses that are a result of the death such as medical bills, funeral expenses and other related costs. Actual damages can also include lost wages.
Exemplary Damages: Exemplary damages payments in cases where the Defendant is found to have been grossly negligent and should pay damages in order to deter/punish such conduct.
How We Can Serve Your Family
Whether your loved one was killed in a workplace accident, on the road in a car accident, or by a defective product, we can thoroughly investigate the incident and diligently pursue your claim to help you get fair compensation. Our San Antonio wrongful death attorneys will ensure that your losses are valued accurately and that you receive punitive damages in cases involving serious wrongdoing.
Whether in the courtroom or at the negotiating table, we fight for what's fair. Our team has decades of combined experience in building strong cases for our clients. We have the knowledge and resources to handle complex, high-value cases and to pursue them as far as possible.
Our lawyers are exceptional litigators, and we work with a network of professionals who can serve as expert witnesses when necessary. We are often able to achieve favorable results in a cost-effective manner through settlements – though we will not be intimidated by the opposition and we are not afraid to go to trial if necessary.