Filing a Personal Injury Claim in San Antonio
Experienced Attorneys Serving Injured Texans
When you or someone you love has been seriously injured—in a car crash, on the job, or in any other accident—your life is suddenly turned upside down. In addition to healing from your physical injuries and adjusting to your new reality, you may be worried about mounting medical bills and lost wages. The good news is that you could be entitled to financial compensation for these and other economic and non-economic losses—and our San Antonio personal injury lawyers can help.
At Maloney Law Group, P.L.L.C., we are strong advocates for victims of life-altering injuries and their families. We are here to help you fight for the compensation you need and deserve. Our firm has been proudly serving injured Texans for more than 60 years and, in that time, we have earned a reputation for compassionate representation and tireless advocacy. Insurance companies and their defense teams know that we won't back down when it comes to protecting our clients' best interests and fighting for the maximum compensation they deserve.
If you or a loved one has been injured due to someone else's negligence, call our San Antonio injury attorneys at (210) 361-2997 today for a free initial consultation.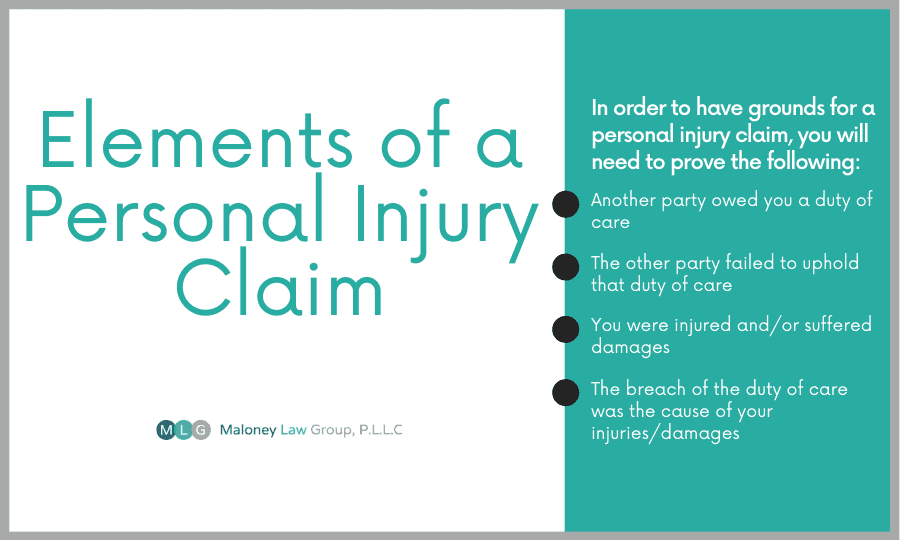 When Can You File a Personal Injury Claim?
The purpose of personal injury law is twofold: first, it allows victims of negligent and wrongful conduct to seek financial recovery for their losses; second, it works to hold those who engage in such conduct accountable for the harm they cause. However, simply being injured isn't enough to file a claim.
To have grounds for a personal injury claim, you will generally need to prove all of the following elements:
Another person or party owed you a duty of care
The other person or party failed to uphold the duty of care
You were injured and/or suffered damages
The breach of the duty of care was the cause of your injuries/damages
Our attorneys are well-versed in the many nuances inherent in personal injury law. We can help you determine if you have grounds for a case during a free, no-obligation consultation.
How Comparative Negligence Affects Your Case
When someone else is negligent or acts unlawfully, causing you injury or harm, you are entitled to file a personal injury claim. But what happens if you share some of the fault for the accident? Under Texas's comparative negligence rule, you may still be entitled to financial compensation, but the total amount of compensation you can recover will be limited.
For example, if you were hit by a distracted driver but you were going five miles over the posted speed limit at the time of the accident, a jury might decide that you were 20% at fault for the crash. If your total damages—including the total cost of your medical expenses, your lost wages, and the value of your pain and suffering—amounted to $100,000, you would only be able to recover up to 80% of that amount, or $80,000.
Additionally, because Texas follows a modified comparative negligence rule, you are only able to file a personal injury claim or lawsuit if you are less than 51% at fault for the accident or incident that caused your injury. In other words, you must be less at fault than the defendant to bring a personal injury claim.
Damages in Personal Injury Cases
The purpose of filing a personal injury claim or lawsuit is to seek compensation for your damages—but what are damages? Simply put, damages are any economic and/or non-economic losses you experience as a result of the accident/your injuries.
Examples of common damages in personal injury claims include:
Emergency care costs
Medical bills
Future medical expenses
Lost income/wages
Lost earning capacity
Lost future earnings
Pain and suffering
In some cases, it may also be possible to recover punitive damages. Unlike the compensatory damages outlined above, punitive damages are meant to punish the defendant for egregious negligence and/or wanton disregard for the safety of others. Punitive damages are rare and are generally not available in most standard personal injury cases.
Types of Cases We Handle
Our lawyers have the knowledge and resources to handle even the most complex cases; we are ready to pursue your claim as far as is necessary to achieve justice. Should a trial become necessary, we are strong litigators with an excellent record of courtroom success.
Regardless of your circumstances, we understand the challenges you are facing. At Maloney Law Group, P.L.L.C., we are driven by our desire to help ordinary individuals who, through no fault of their own, have found themselves dealing with life-altering injuries, serious financial hardships, and devastating losses.
What Sets Maloney Law Group, P.L.L.C. Apart?
We are a boutique firm focused exclusively on personal injury cases, including wrongful death claims. We devote extensive time and resources to individualize and work on your case rather than working on early resolutions of many small claims. Our personal injury attorneys in San Antonio like to meet our clients, talk with them personally, and work with them throughout the litigation process to make things as simple and stress-free as possible.
When insurance adjusters see our firm name on your claim, they take notice and treat your case with the respect it deserves. Clients also benefit from our relationships with professionals whom we can call upon as expert witnesses. These connections often help us achieve exceptional results through settlement.
You should not have to suffer economic hardship in addition to your physical pain. Our experienced, knowledgeable lawyers will fight for fair compensation that will ensure your future is secure.
To get started on your case, call our San Antonio injury lawyers at (210) 361-2997 or contact us online today.
Birth Injury $7,000,000

Birth injury involving hypoxic ischemic encephalopathy (2020) Contingency Fee: $2,800,000 Reimbursable Expenses: $75,578 Net to Client: $4,124,421

Birth Injury $5,750,000

Involving hypoxic-ischemic encephalopathy (2014) Contingency Fee: $1,786,738.72 Reimbursable Expenses: $170,000.00 Net to Client: $3,396,261.28

Head-on Collision $5,000,000

With an 18-wheeler causing serious injury and death (2008) Contingency Fee: $1,799,990.00 Reimbursable Expenses: $150,000.00 Net to Client: $2,581,834,89

Carbon Monoxide Leak $4,290,000

Exposed the crew to harmful gasses (2006) Contingency Fee: $1,716,000.00 Case Expenses: $100,000 Net to Client: $2,474,000.00

Construction Accident Death $3,600,000

Due to dangerous work conditions (2015) Contingency Fee: $1,440,000.00 Case Expenses: $125,000.00 Net to Client: $2,035,000.00

Trucking Accident $3,000,000

Trucking accident resulting in death (2015) Contingency Fees: $1,000,000.00 Case Expenses: $93,455.68 Net to Client $1,906,544.32

Failure To Diagnose $1,820,000

Failure to diagnose ruptured brain aneurysm in the Emergency Department resulting in serious injury (2020) Contingency fee: $712,090.00 Reimbursable expenses: $157.285.61 Net to client: $950,624.39

Back Surgery Resulting in Paralysis $1,600,000

Back surgery resulting in paralysis (2014) Contingency Fee: $640,000.00 Case Expenses: $170,000.00 Net to Client: $790,000.00

Ceiling Collapse $1,450,000

Ceiling collapse at a construction site resulting in injuries (2012) Contingency Fee: $438,476.26 Case Expenses: $26,952.51 Net to Client: $984,571.23

Failure To Diagnose $1,370,000

Failure to diagnose and treat a necrotizing infection resulting in death (2019) Contingency Fee: $548,000.00 Reimbursable expenses: $165,301.67 Net to client: $656,698.33
What Makes Maloney Law Group Unique?
Family History

We have been a part of the San Antonio Community for decades.

Boutique Law Firm

You will receive personalized and dedicated attention.

Experienced & Prepared

We are equipped to handle the most complex cases.

Reputation for Success

We have earned a reputation for relentless advocacy.
Do Not Let an Injury Set You Back
Contact us online or give us a call to learn more about our firm or to schedule a free consultation with our team.
(210) 361-2997